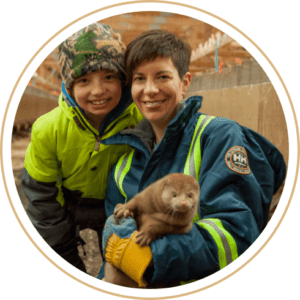 Code of Practice for the Care and Handling of Farmed Mink
The Codes of Practice are nationally developed guidelines for the care and handling of farmed animals. The Codes serve as our national understanding of animal care requirements and recommended practices.
Canada's Code Development process is led by NFACC. Key components of the process are:
The inclusion of scientific committees to review research on priority welfare issues
Ownership of the individual codes by the relevant stakeholders through their active participation in developing the code
Measurable components to facilitate the development of the Assessment programs
A transparent process
Broad representation and expertise on each Code Development Committee ensures collaborative Code development. The Code Development process fosters relationships and understanding amongst all partners involved in animal care.
Stakeholder commitment is key to ensure quality animal care standards are established and implemented. Stakeholders include: farmers/producers, transporters, veterinarians, animal welfare and enforcement agencies, government and researchers.
The development of new Codes and Code revisions follow specific steps that are designed to make the process transparent, collaborative, science and consensus-based and participative.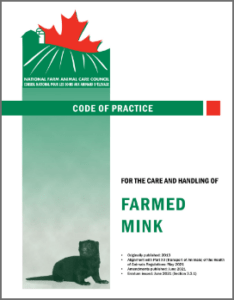 The Code of Practice for the Care and Handling of Farmed Mink was originally released in 2013. Amendments to the mink code were initiated in 2020 and completed in 2021. Amendments were made to the following sections: 1.2.2 Pens, 1.2.3 Nest Boxes, 1.2.4 Bedding, 3.1 Nutrition, 3.1.1 Breeding Mink, 5.1 Animal Handling and 6. Euthanasia (now called Euthanasia and Harvest).
Content on the transportation section of this code to reflect the updated Health of Animals Regulations which took effect in February 2020.